As I have been noting for a decade, the broken U.S. healthcare system will bankrupt the nation all by itself. We all know the basic facts: the system delivers uneven results in terms of improving health and life expectancy while costing two or three times more per person compared to our advanced-economy global competitors.
U.S. Lifestyle + "Healthcare" = Bankruptcy (June 19, 2008)
Sickcare Will Bankrupt the Nation–And Soon (March 21, 2011)
How Healthcare Is Dooming the U.S. Economy (Three Charts) (May 2015)
You Want to Fix the Economy? Then First Fix Healthcare (September 29, 2016)
This chart says it all: the global outlier in low life expectancy and exorbitant cost is the U.S.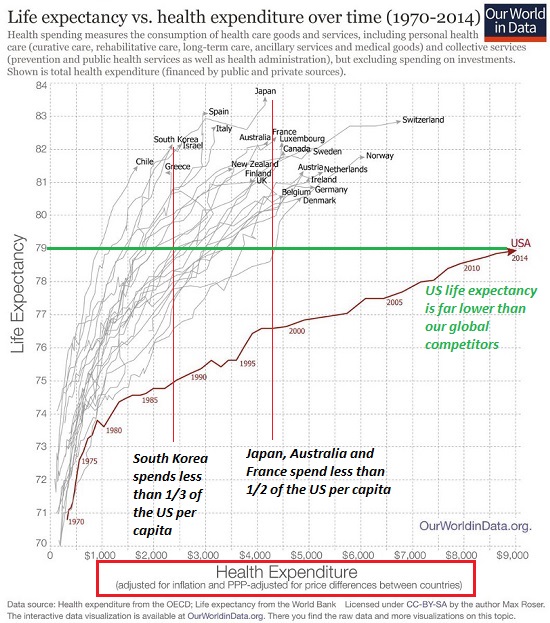 The profit motive is supposed to lower costs, not increase them. In the idealized model of a completely free market, the profit motive is supposed to lower costs as customers are free to choose the best product/service for the lowest price.
In U.S. healthcare, the profits are stupendous, yet the costs are even more stupendous. Rather than lower costs, the U.S. system of for-profit healthcare has sent costs spiraling into the stratosphere, to the point that the system's costs are threatening to bankrupt the government and the nation.
Why is this so? Karl Marx provided the answer in the 19th century. In the idealized model of free-market capitalism, those who provide superior services for the lowest price reap more profit than their less agile/productive competitors.
⇒ Keep Reading